Here's to the New Year! When to make changes, if not… now?

Of course, we are not saying that you can't change habits, rules and expectations overnight, but it is actually the New Year when people decide to modify "something".

And by "something", in this case, we mean social media strategy.

If you want to be up to date with the latest news concerning social media today, you simply need to take a look at your strategy from time to time.

And while you may be busy with making your own resolutions, you should take your business under a magnifying glass and find out whether you did quite alright last year and want to scale it, or you rather need some proper edits.

This isn't possible without a social media audit, which is what we'll be discussing today. What's more, we've prepared a special social media audit template for you.
Table of content:
The future of social media is bright
We have already recognized some of the 2020 social media trends.

AR and VR are and will be on the rise, we have no doubts about it.

Nobody can be surprised any longer about the popularity of video formats on social media.

Live relations are no longer just a Facebook trend – it applies to the whole world of social media.

Why are we even writing about social media trends for 2020? To show you the power and potential of social audits. It does not hurt to get familiar with those topics that were trending last year – who knows if they wouldn't inspire you to adjust your strategy in 2020?
Applying any trends, especially those which can be game-changers for your organization (implementing chatbots, AR or VR features, for example), should be always preceded by an audit.

Time to say goodbye to 2019. With a proper social media audit that evaluates your good, bad and ugly. So, if you don't know…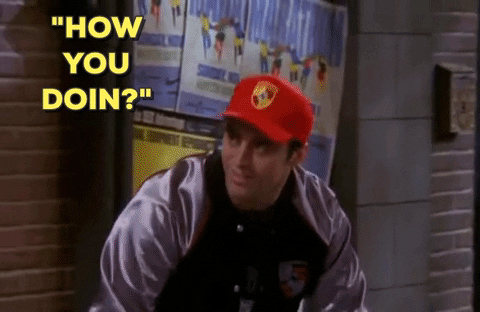 on social media, then a social audit is not a choice for you – it is a must.

What is a social media audit?
Long story short: a social media audit is a form of evaluation of your performance in the area of social media.

With a social audit, you can recognize possible bottlenecks in your strategy and find out what converts and delivers best.

Without a social media audit (and checking your results on a daily basis), it is nothing but guesswork.
How to get ready for a social audit?
An audit without research is like Starsky without Hutch, and the future of social media relies solely on social media audits and conclusions.

You should get both your team and documentation ready to ensure that your social media audit will be completed in the most efficient way.

Also, define the period of your social media audit, prepare a social media audit template and set up a list of any necessary processes to be reviewed. It will take "some" time but, it is absolutely crucial to make you successful in 2020. You can use some social media audit templates to keep you going.

Below, you can find a short list of what you need in order to prepare your organization for a social media audit:

social media reports from a given period – they should come natively from social media platforms or external tools,
social media strategy and tactic templates from a given period,
additional reports – for example, social media monitoring reports or results of competitive analysis for benchmarking.
The anatomy of social media audit
Okay, we already know that you actually want to get your social audit done. What should your social media audit template consist of?
Social media platform reviews
Of course, you need to evaluate all data coming from various social media platforms that your brand is active on.

The data should be reflected in KPIs. These are the data you should take into consideration first of all.

If reach is your KPI, you need to define whether your social media channels meet these criteria. Try to avoid vanity metrics. It's always better to set up measurable and meaningful KPIs that will truly reflect your business.

A social media audit is a good chance for checking the frequency of posting, the number of mentions, retweets and shares and the overall performance of your profiles on each of the platforms of your choice.

Good questions to ask:
Which platform worked for you the best?
Which profile gained the most engaged community?
Which stats should be improved?
What kind of changes should be implemented?
Content review
A content review is a valid and integral part of any social media audit. While in the first part you should rather focus on the platforms and their nature in general, in the content review section you need to analyze almost every piece of content one by one.

This is the only way to find out whether your content marketing strategy on social media is successful, or not.

The future of social media is all about relevant and spot-on content, adjusted to the audience's needs. Of course, 2020 social media trends would be a great idea to implement, but you need to make sure they make sense for your audience and your strategy.

What do you have to check here?

Reach in your target groups.
CTR, CPC, CPS – what kind of content delivered measurable results
Engagement rate – it is one of the vanity metrics, but it can indicate whether your audience gets involved in your content.
The percentage of each type of content in your strategy.
Stats of each content type – e.g. if you post videos, check the average watch time.
Quality of engagement and traffic to external websites if you send any.
Shining stars – the best performing posts.
If you do not measure it on a regular basis, collecting such data may take some time.

However, it is crucial for you and your brand to evaluate this data even if you are a couple of months behind. Another important task is to find out what you can do better in terms of content review in the future. Facebook trends are great to follow, but they need to align with the strategy.

You can do it with Kontentino.

You can check Page performance, but also Posts performance within Kontentino. Detailed statistics about Facebook and Instagram posts can provide you with essential feedback needed to improve your results.
You can use post labels to identify types of content and communication lines quicker in the future.
Needless to say that it helps not only in terms of a social media audit – you can balance out your content regularly too.
It saves tons of time and you can optimize your performance on a regular basis, without a special social media audit.

Audience review
You've gained some audience around your brand. But is it THE audience? The one that you actually want to reach?

Evaluating whether you reach out to the right target group is not always easy. We can't promise that you will be 100% happy with the results, but we can tell you what to do to be happy with the outcome of social media in the future.

Of course, you don't have an impact on who actually follows your profile or interacts with your content – in an era of bots, anything can happen.

However, what matters here is how you communicate or set up paid campaigns on social media.

Your target group can only include everyone in the world in two cases: if you sell either water or air.

Other than that, your target group should be more diversified and defined at the very beginning of your social media journey, then adjusted retrospectively too.

Social media monitoring review
Do you think that you know everything that has ever been said about your brand?

Social media monitoring was invented for brands to take care of their reputation, and while you are given all the necessary tools and methods to do it, you should not underestimate it.

In a social audit, you should specify whether you reacted to all mentions and what the sentiment was.

Have negative comments appeared recently? If so, why?

Would your reaction change anything or help avoid a social media crisis?

With so many tools for social media monitoring, you simply have no excuses not to take a look at what, where, when and why things are being said about your brand. Also, you have no excuses to avoid it in your social media audit template.

You can even use free Google Alerts to monitor any topic or keyword related to your business. At this stage, you should check not only mentions about your brand but also your competitors.

Social media analytics review
How can you decide whether you're doing well?

By analysing. You need to analyze if you actually can… analyze.

If you expect your social media profiles to drive traffic, then you should look at those metrics that reflect your goal, not temporary Facebook trends.
Competitive analysis
Do you think that you have actually performed pretty well last year? Well done! But it is high time to check if the same applies to your market rivals.

Analyze their performance, communication, content and statistics to find out whether there is any room for improvement of your social media strategy.

Good questions to ask:
who are your competitors on social media?
where do they lead communication?
how often do they post?
how do they interact with their target groups?
what were their most successful campaigns?
Social media workflow review
No matter if you work with one, five or fifty brands – you need to have a kind of social media workflow figured out.
How do you prepare content plans?
What do you use to schedule your posts?
What is the method for gaining your client's approval as quickly as possible?
What about social media reporting – are you still doing it all manually?
You need to include this in your social media audit template.

There is no unique approach to social media workflow. You should have some clear procedures about how you communicate with your clients and get that desired "OK" for your ideas and activities.
If you don't have it sorted, you risk a long approval process and missing the boat, especially when it comes to real-time marketing. With the right social media audit template, you can recognize leaks in your workflow.

Goals review
Do you remember what you wanted to achieve last year? Now the moment of truth has come.

Time to reveal whether you achieved your goals or you missed out slightly

If you set the bar quite high but fulfilled 80% of them, then you can still be proud of yourself and strive for perfection in 2020.

However, if you missed them greatly, then a social media audit can help you recognize potential bottlenecks and the reasons for failure.

You can take into account some 2020 social media trends to set ambitious but realistic goals for the coming year.
What can you do to make your social audit better?
It is highly likely that you'll recognize a few bottlenecks when compiling your social audit. Have you found yourself in trouble? No worries – everyone has gone through at least one such day, and a social media audit template can help you get back on track. We've prepared one for you, and you can get it here.

In the meantime, let's talk about how you can improve your social media audit with a series of quick steps.

Optimize your performance
If there were any "meh" results from your social media strategy in 2019, recognize and eliminate them for the year 2020.
Your activity on social media should bring about positive effects, so take a look at how to care for impressive growth, how to make your social media campaigns sparkle, and how to reach your target group even more effectively than you're currently doing.
The sky's the limit!

Befriend KPIs

You may find out that there is nothing to evaluate, not because there is no data – but because there were no goals set up. That is a mistake, but you can easily fix it!
Take a look at the metrics and statistics that count, then evaluate whether your current strategy helps you reach your desired KPIs. These KPIs should be attached to your social media audit template, too.

Get to know your target group
Prepare a set of goals, insights and conclusions about who you reached and who you want to reach with your social media communication.
With a social media audit, you can quickly identify which posts did not perform as desired, thus giving you some more insights about your target group and their needs, expectations, requirements and preferences.
The better you know your target group, the better and more spot-on communication you can have with them!

Choose channels that work
You need to be present where your audience is not only also present, but more importantly where they are hyperactive. That is the only way to not just answer their needs but to exchange feedback and interact with them too.
Choose channels according to your competitors' activities, audience statistics and potential. A social media audit can definitely help you with identifying the best channels for your communication, and a competitive analysis can be the proof in the pudding.

Introduce simple procedures
You know a thing or two about social media. Your team is well-experienced when it comes to communication and content plans.
It's great! – but it doesn't mean that the collaboration is always rainbows and butterflies, right?
By making post-approval workflow a breeze, you can work more effectively and quickly.
Implement a few rules and tools that can help you collaborate with your team and your clients. You don't have to start with many rules at first, even two or three of them can be really beneficial for your workflow and, therefore, your social media audit afterwards too.

Upgrade your strategy
Focus on the type of content that delivers the best results for your desired audience. Try to leverage the type of interaction that reflects your business goals. Peep at your competitors, but do not copy-paste them. Getting inspired never killed anyone, but too close inspirations can be easily spotted and never forgotten.

Optimizing your tactics should be included in your regular activities and should not happen only in the occurrence of an annual social audit. The future of social media can be bright for your brand if you do not miss this step.

Use new tools
There are tools that can help you take care of social media activities. We have listed them in one of our recent articles and we strongly advise you to check them out. You may not be aware of how much time you can save by compiling your own toolbox.
Don't worry – even the biggest fish in the marketing industry can always find some room for improvement. No matter if you run social media for just a few brands, or you are responsible for the communication of a few hundred social media profiles, you should not underestimate the value of a social media audit.

Knowing how hard it is to prepare a social media audit, we decided to prepare a special social media audit template that you can use to audit your profile. Be honest, but not too harsh on yourself – and always shoot for the stars on social media.